This International Women's Day, our Publisher Alexandra Tselios pays homage to 10 inspiring women across science, technology, medicine, and politics who may not be household names, but who should be remembered as shaping our path.
#IWD
Elizabeth Blackwell, 1821–1910
Elizabeth Blackwell is the first woman to graduate Medical School and fought for social reform for women. Interestingly, it was not a love of Medicine that drew Elizabeth to her career but due to a dying friend who suggested she would have been "spared her worst suffering if her physician had been a woman." The desire to seek an "absorbing career" also seemed due to the suffering she endured in regards to her love life. Elizabeth wrote in her diary, "I felt more determined than ever to become a physician, and thus place a strong barrier between me and all ordinary marriage. I must have something to engross my thoughts, some object in life which will fill this vacuum and prevent this sad wearing away of the heart."
Dorothy Arzner, 1897–1979
Amazingly, Dorothy Arzner was the only female working director in Hollywood in the 1930s! In her book about Dorothy, writer Judith Mayne said that "Arzner was often depicted in the popular press as a woman for whom her career came first." Unfortunately, due to illness, Dorothy had to leave Hollywood in the 1940s and went on to teach at UCLA.
Barbara Holborow, 1930–2012
Barbara Holborow was an Australian youth advocate and Magistrate in the NSW Children's Court. A woman who "rubbed a lot of powerful people the wrong way," Barbara devoted over 40 years of her life to helping children through legal and political frameworks. Through her work at a women's refuge, Barbara adopted a young Aboriginal boy and went on to provide foster care for many more children as well as setting up free legal aid for children in NSW.
Hedy Lamarr, 1914–2000
Better known as a glamorous Hollywood actress, Hedy Lamarr actually invented the "frequency-hopping" technology that would eventually lead us to wireless technologies such as Wi-Fi and Bluetooth. Hedy spent her evenings working on weapons technology and with her husband had hoped to create a secret communications system that would eventually defeat the Nazis in WW2.
Vida Goldstein, 1869–1949
Vida Goldstein was the first woman in Australia to stand for election (ran Independent) to a National Parliament, she campaigned for equal property rights and suffrage. Vida influenced many acts in Australian Parliament and even had her own newspaper called The Women's Sphere. I imagine she would have been a regular contributor to The Big Smoke 🙂
Dorothy Hodgkin, 1910–1944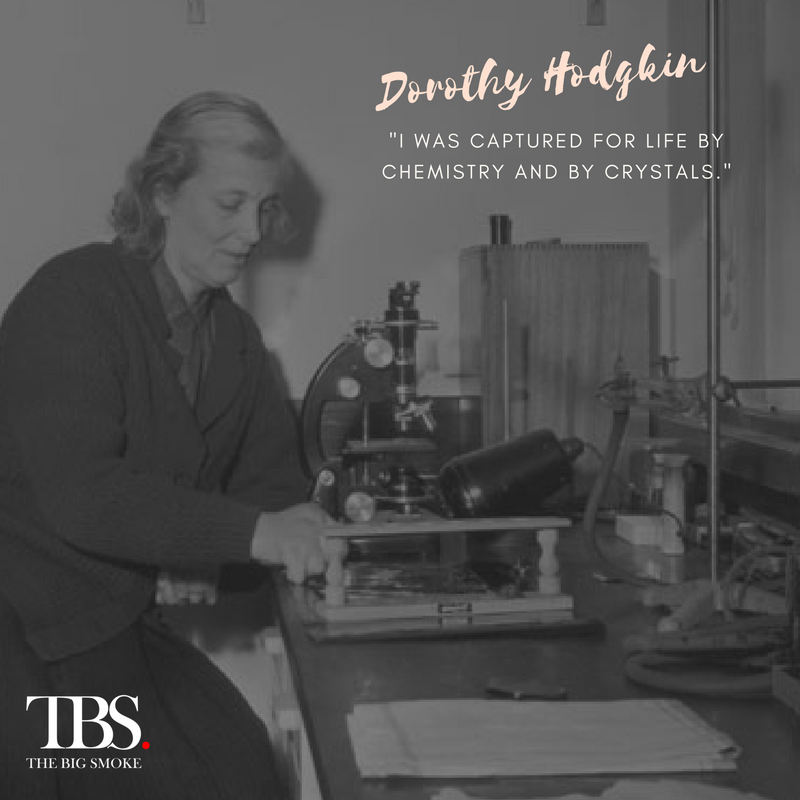 Dorothy was a British biochemist who won the Nobel Prize for Chemistry in 1964 and is best known for three-dimensional biomolecular structures and focused on insulin research. In 2010, Dorothy was the only woman celebrated alongside Isaac Newton and Benjamin Franklin by the British Royal Mail who issued post stamps in their likeness.
Juanita Nielsen, 1937–1975
Juanita was a newspaper publisher and anti-development advocate. Juanita publicly advocated through local newspapers against and opposed developments in the Kings Cross area and Victoria Street, Darlinghurst. With stories of kidnapping and harassment of those who opposed certain property developers, Juanita went missing on the 4th July 1976, her body has never been found. As our own Ingeborg Van Teeseling noted: "It doesn't happen often in Australia that people pay for 'no' with their lives, but when they do there is even more reason to listen, and to celebrate their chutzpah."
Betty Holberton, 1917–2001
Betty Holberton was a computer pioneer, and one of the six original programmers of ENIAC (the first general-purpose computer). On her first day at the University of Pennsylvania, Betty's math professor asked if she was perhaps "better off staying at home and raising children?" However, Betty went on to establish an accomplished career before giving birth to two girls and became the only woman of the original six who programmed the ENIAC to receive the Augusta Ada Lovelace Award (the highest award given by the Association of Women in Computing).
Faith Bandler, 1918–2015
Faith Bandler was an Australian trailblazer for Indigenous rights, known as a "troublemaker," and established the Federal Council for the Advancement of Aboriginal and Torres Strait Islanders. Faith worked tirelessly to ensure the 1967 Referendum would finally include Indigenous people into the constitution and bring them under the same law as every other Australian. In 1994, Macquarie University gave her an honorary doctorate and in 1997 she received the Human Rights Medal and was made an Australian Living Treasure.
Zelda D'Aprano, 1928–
Zelda D'Aprano is an activist who fought for equal pay, gender equality, and in 1970 formed the first Women's Action Committee advocating equal pay. Within a year, there were dozens of women's liberation groups all over the country. Zelda was sacked from the union for her trouble, but the principle of equal pay was agreed in 1972 and enshrined in the Equal Opportunity Act of 1999. Zelda is still passionate about equal pay, with the Sydney Morning Herald reporting that "Ms D'Aprano has called on women seeking what she terms 'pay justice' to 'become far more militant' in their quest for equal pay – not least because she said it was tied to 'women's struggle full stop.' "
Be brave, be firm, and keep moving forward. 
[squerb_button]